Corrugator (COR)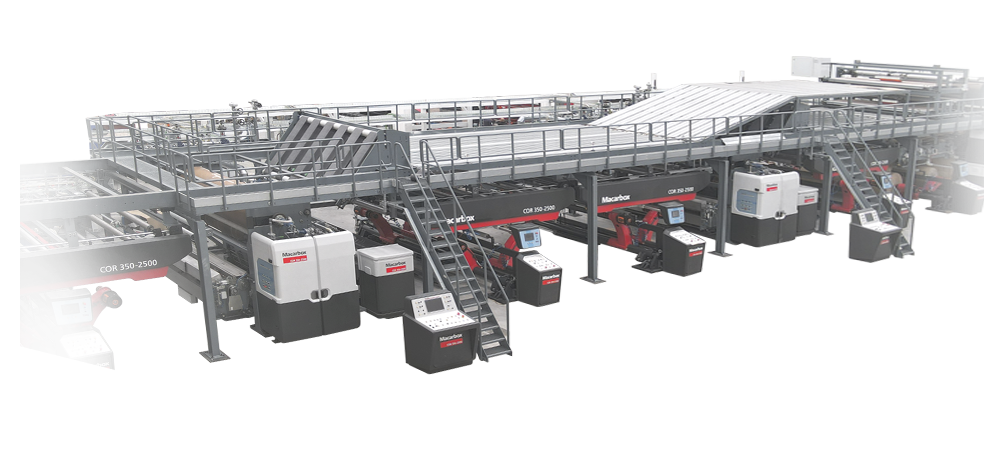 Macarbox corrugator lines constitute an excellent complete solution for production of corrugated board.
High robustness and precision design enables working with both very high and very low paper weights.
All materials employed are of high quality and European origin.
We offer a flexible solution adaptable depending on customers´ requirements.
Along with complete corrugator machine, we offer separate modules, that are easily integrated to any competitor make or model, upgrading and modernising your existing corrugator.
Features
Complete corrugator line with cutting edge technology.
Single, double and triple corrugated board.
Available in different working widths, from 1650 mm (65") up to 2800 mm (110"), depending on customer needs.
High productivity and efficiency.
Saving in operating cost.
Technical data
| Design Speed | 350 m/min |
| --- | --- |
| Working Width | From 1650 mm to 2800 mm |
| Number of Out | 6 to 8 (to order) |
| Type of Slitting | Clean cut |
| Number of Scores | 12 to 18 (to order) |
| Maximum Stack Height | 2000 mm |
| Design Speed | 1150 ft/min |
| --- | --- |
| Working Width | From 65" to 110,2" |
| Number of Out | 6 to 8 (to order) |
| Type of Slitting | Clean cut |
| Number of Scores | 12 to 18 (to order) |
| Maximum Stack Height | 78,7" |