Laser Cutting Machine (LCM)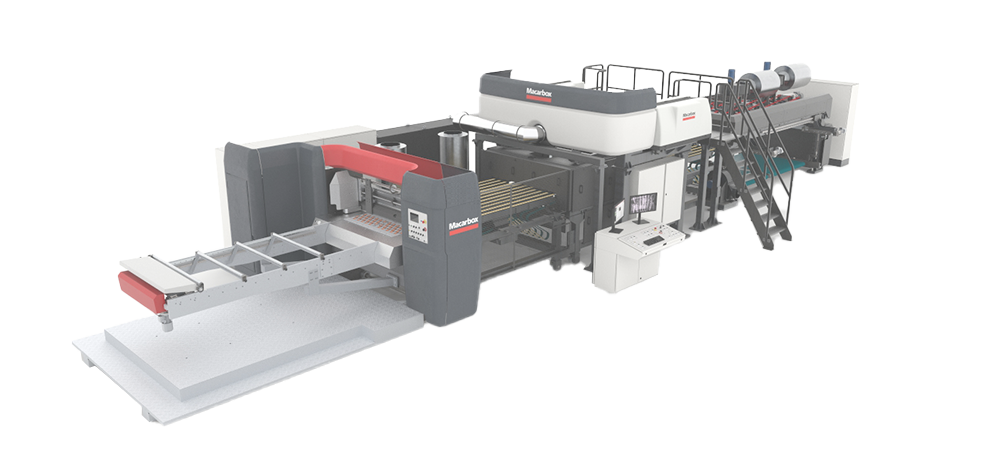 Immediate launch of new designs, no time waste, no dies.
Macarbox provide a unique Laser Cutting and Creasing Technology on the market for corrugated board with a high Speed single pass and fully automatic laser machine.
Features
High Speed single pass laser, cutting and creasing.
Faster than conventional cutting tables.
Control of the laser penetration into the corrugated board.
Zero change over time between new designs.
Optimal solution for small and medium batches of boxes and displays.
Possibility to define new forms, new designs and new business opportunities to our customers.
Possibility to mark logos, letters, serial numbers, QR-Codes.
No influence of printed or coated paper
Non-stop job management with user-friendly flexible interface.
Easy to use and minimum operator requirements. Fully automated for optimized performance at all levels.
Perfect match to our Digital Printing.
Technical data
| Technical Characteristics | Laser Cutting Machine |
| --- | --- |
| Min Width Sheet | 700 mm |
| Max Width Sheet | 1600 mm |
| Min Length Sheet | 1000 mm |
| Max Length Sheet | 3500 mm |
| Corrugated Sheet Thickness | 1.5 mm - 8 mm (Doble) |
| Max Mechanical Speed belt | 600 mm/s |
| Technical Characteristics | Laser Cutting Machine |
| --- | --- |
| Min Width Sheet | 27" |
| Max Width Sheet | 63" |
| Min Length Sheet | 39" |
| Max Length Sheet | 138" |
| Corrugated Sheet Thickness | 0.06" - 0.3" (Double) |
| Max Mechanical Speed belt | 600 mm/s |